Amin Sound & Entertainment, "ASE", is a national DJ, Sound, and Entertainment company with over 10 years of experience in the industry. We strive for excellence and perfection at every single event we work, ensuring that it is truly outstanding. Celebrate limitlessly.
Hi, I'm Vivek, but I also go by the name of DJ Amin. Growing up in a family of musicians, I fell in love with music at a very early age, learning to play piano, harmonium, tabla, and dhol. I performed my first gig at the age of 12, founded Amin Sound & Entertainment, and the rest is history. 
I've been spinning for packed dance floors for over 10 years now and love every second of it. I believe that my drive for perfection, relentless energy, and love and fundamental understanding of music holistically are what really set me apart. I love to seamlessly blend music from all genres ranging from Bollywood, Bhangra, Hip-Hop, and Top 40s, to old school '80s, '90s, House, Latin, Arabic, etc.

Whether it be behind the mic, the booth, or the dhol, I hope to see you at your next event! At the end of the day, the music makes the memories.
Check out my story in this magazine feature!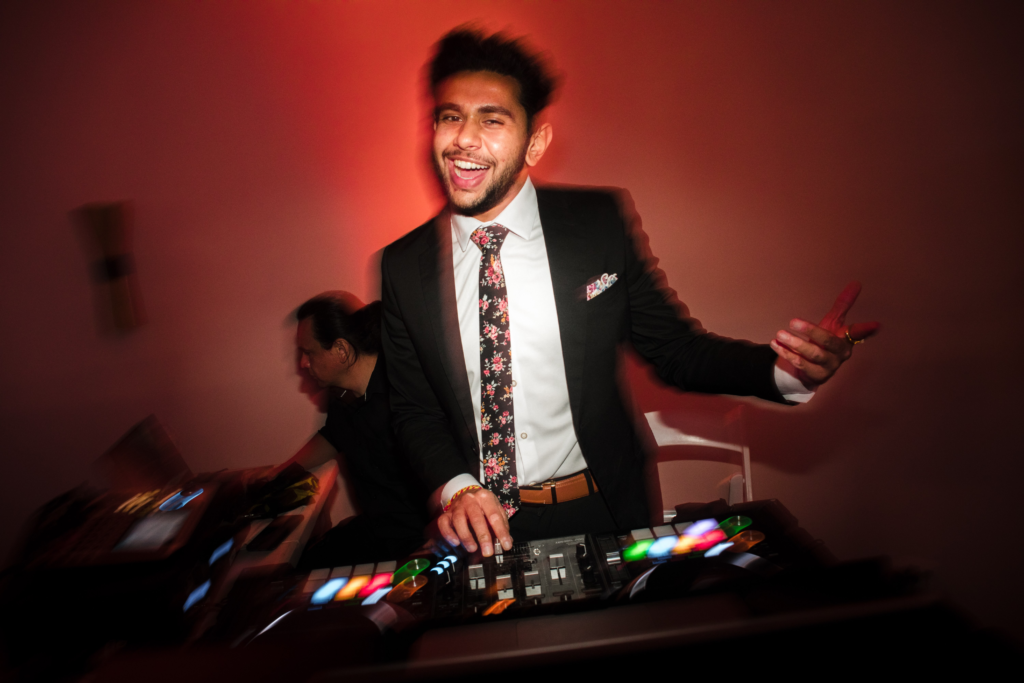 DJ
Expert live mixing to keep your guests on the dance floor all night long and chanting for one more song! Turning receptions into clubs, one wedding at a time.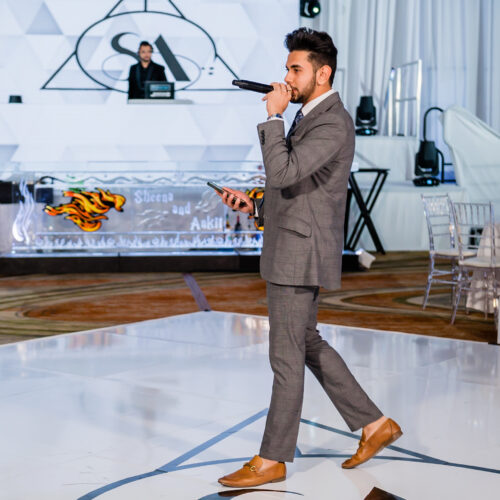 MC
Well spoken emcees are crucial in keeping your guests entertained and energized for the entire event. From the moment the doors open to the moment the party ends, emcees keep the energy high.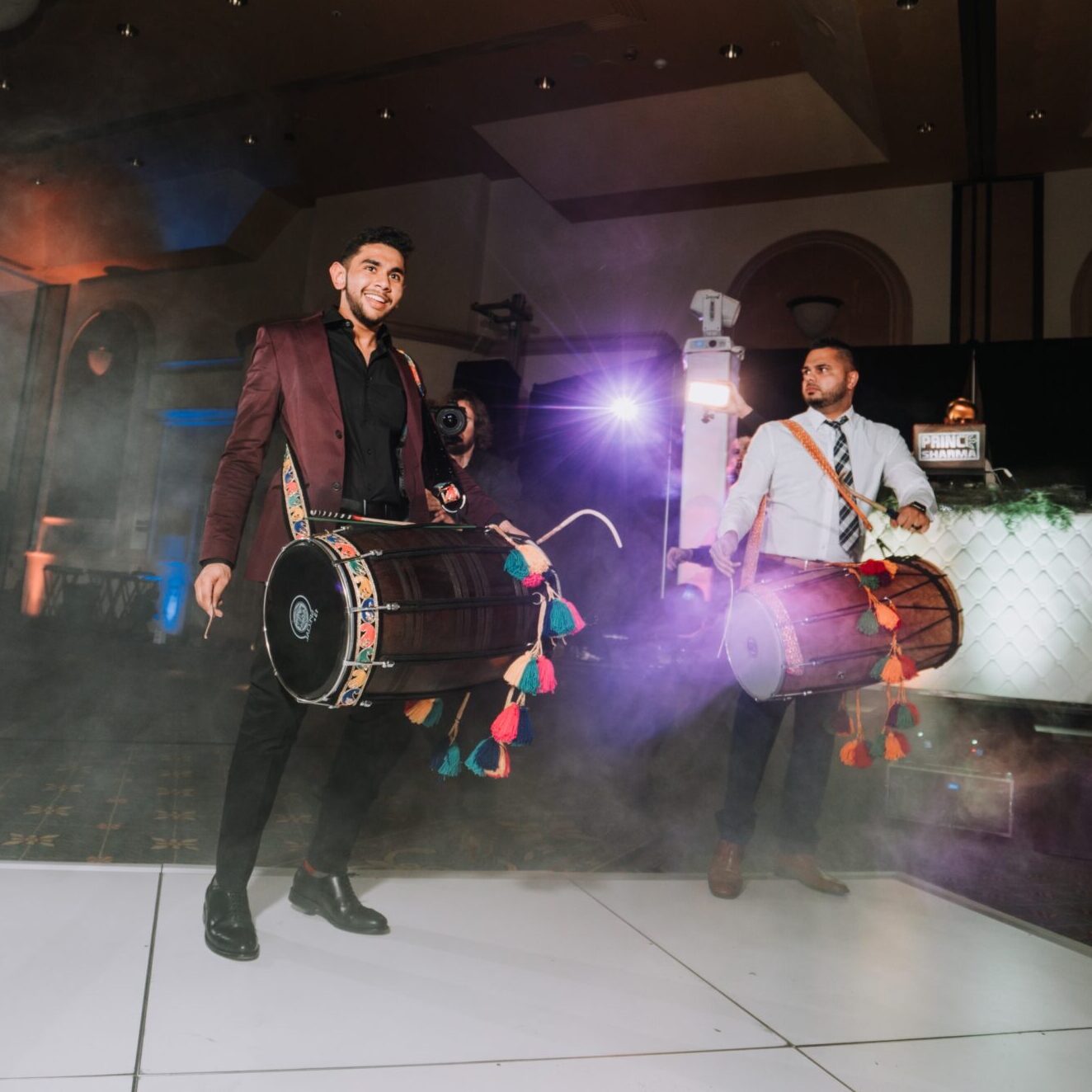 Dhol Players
Dholis have become an essential part to any wedding! They add an unmatched amount of energy and hype that is sure to turn your shyest guests moving to the groove!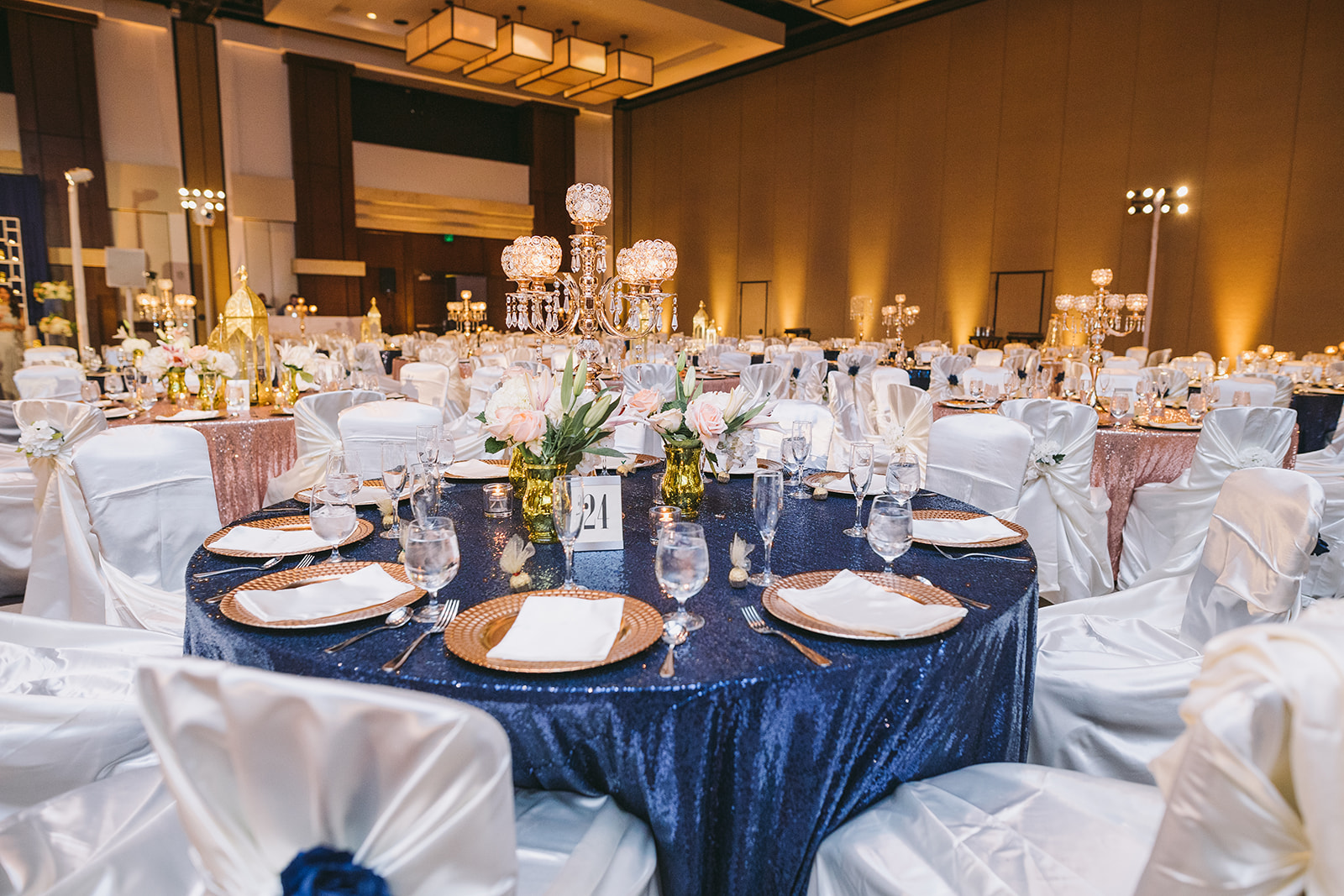 Intelligent Lighting
LED Uplights are a must-have at every event. They are seamlessly able to transform the ambience of any room and instantly elevates the entire look your event. Our intelligent movers help to turn your dancefloor into a Vegas Nightclub!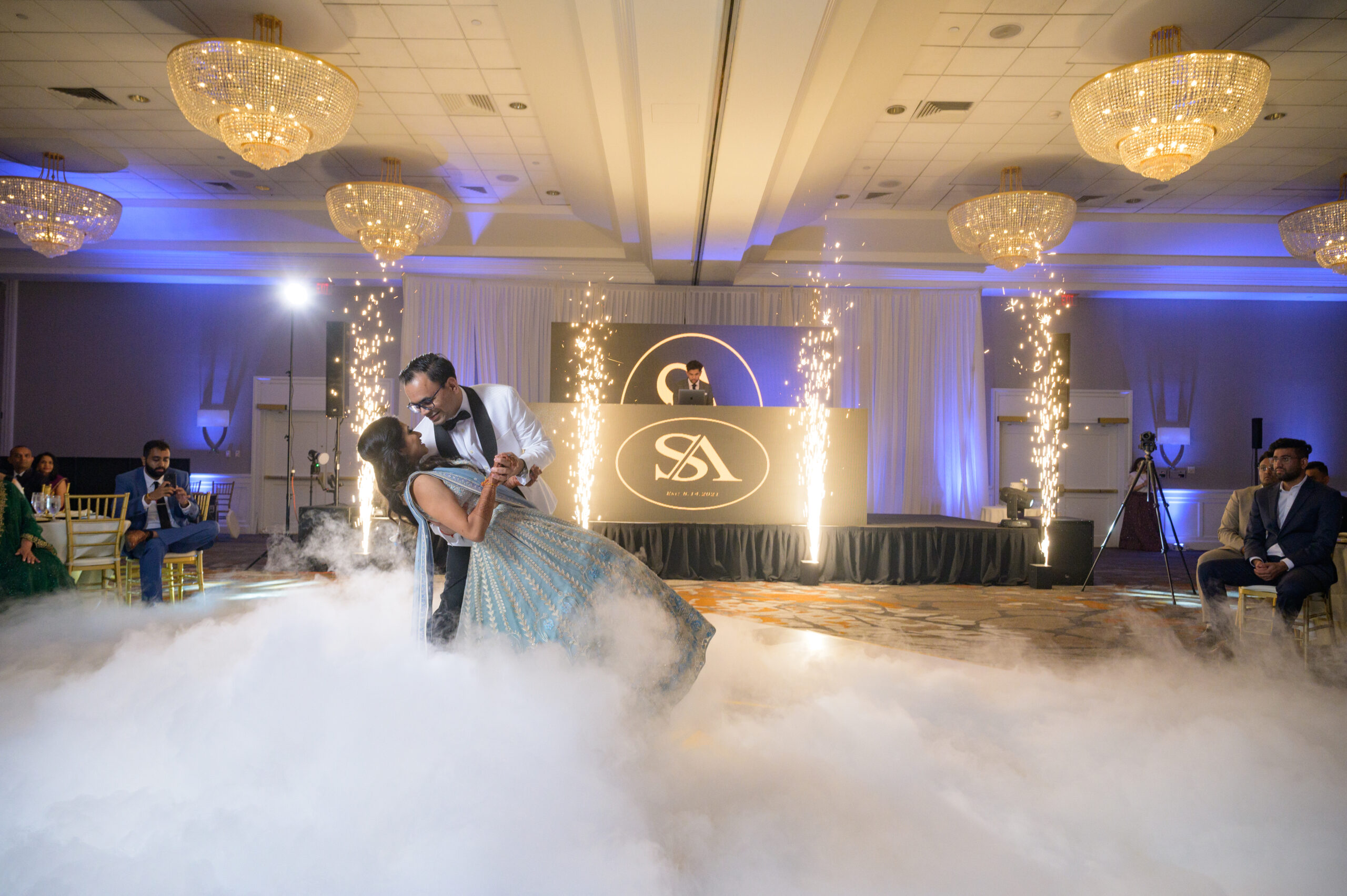 Special Effects
ASE provides a multitude of special effects to really turn your wedding into the party of your dreams. From indoor cold sparklers for your grand entry to dancing on clouds to CO2 cannons to cool off your crowd, we have it all!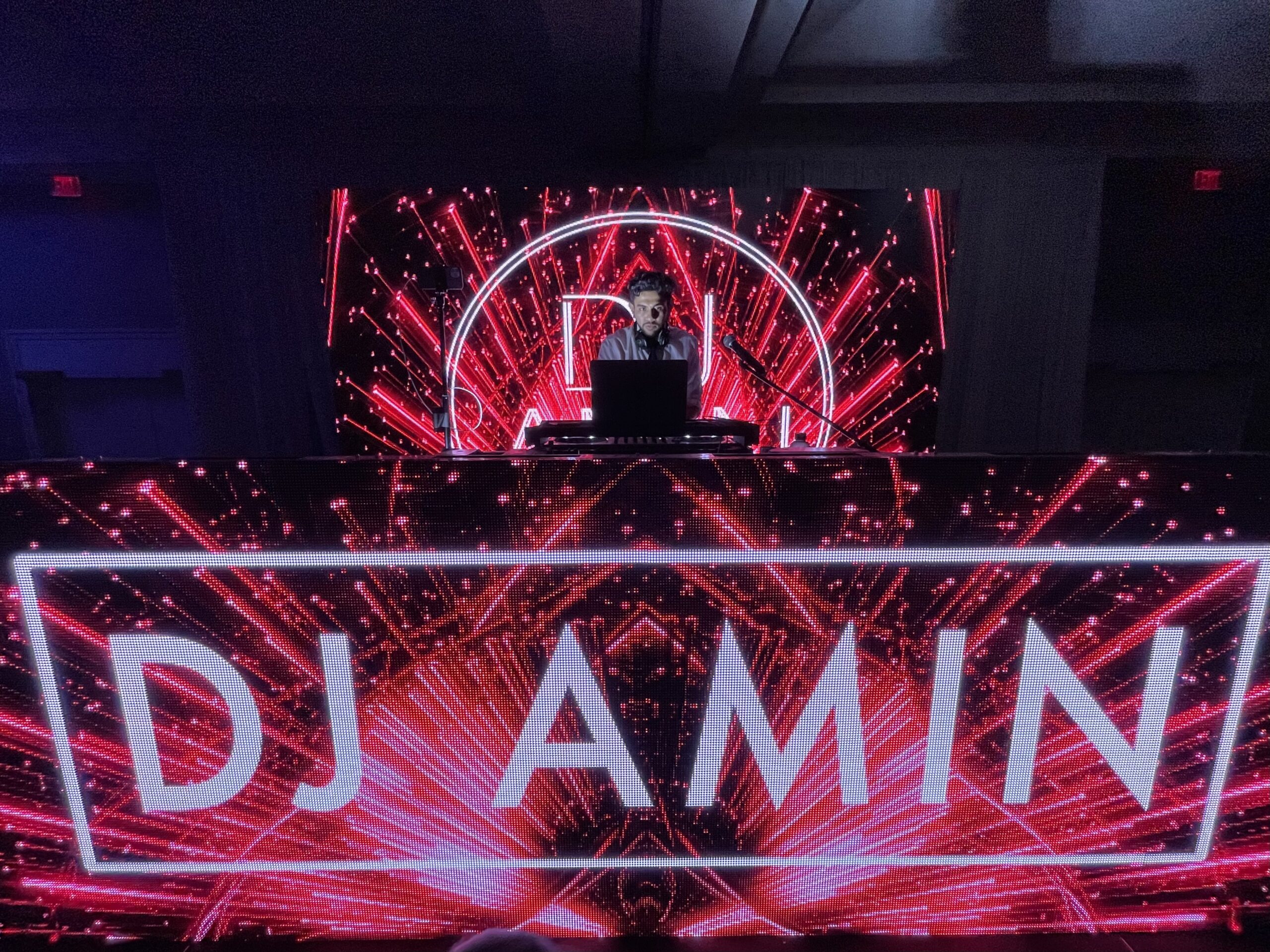 LED Walls & Displays
We're able to handle any of your visual display needs. LED Video Walls, Projectors, and TV screens. If you're thinking slideshows, video montages, same day edits, this is a necessity.
DJ Vivek played at our wedding, and he did a beyond fantastic job! He really got the party started and kept the guests on the dance floor the entire night. When someone staying at a the hotel came to complain about the noise, DJ Vivek turned up the music! My dad even took his shirt off because he was so fired up by the music. We are so thrilled with DJ Vivek's work!
DJ Vivek Amin is a spectacular DJ, emcee, and overall hype man. He went above and beyond to make our day special and got the crowd going. He connected with everyone and made everything easy for us. He really knew what he was doing and shined in every way. I couldn't speak more highly about Vivek!
Vivek was a rockstar at all of our wedding events. He made sure everything was prepared and ready hours in advance while also making sure that the events felt seamless without any hiccups to us as the bride & groom. Aside from the logistics, Vivek also knew how to get our crowd engaged. He has a great understanding of crowd control and appealing to all types of age groups. We are so happy with our decision of having him DJ our weekend! Thank you, Vivek (know that you're also DJ-ing our baby shower and kids' weddings in the future)!
After talking with Vivek, it was clear that he was one of the best in the business and had a wealth of knowledge and experience in a very complex and crowded industry. He made our dance floor for our Sangeet and Reception seem like a personal nightclub: feeding off the crowd's energy, playing hit after hit, after hit, after hit for two nights in a row! He catered to everyone - refreshed Bollywood and Tollywood hits for the aunties and mixing top hits and throwbacks for us. Everyone got so fired up that even the aunties were throwing down to Drake. He went above and beyond to make our weekend as special as possible.
He was an integral part of our wedding end to end planning, not just as the DJ but also in coordinating every major aspect of the weekend. He was organized, diligent, and most importantly FUN to work with! Every single person from our wedding to this day tells us how amazing our DJ was and how he always kept the crowd engaged. Vivek was always calm and collected and always helped us navigate things smoothly. Words fall short when it comes to articulating how amazing our experience with him was. Having Vivek for our big day was the best decision we made - a vendor turned into a lifelong friend!
There aren't enough words to describe how passionate Vivek is to his craft! He helped us through the entire process for our wedding, expertly guiding us through what he thought was necessary and what was added fluff. From emceeing to live playing the Dhol and everything in between, Vivek can do it all! Vivek made our wedding events so memorable and kept the party going nonstop! We would HIGHLY RECOMMEND VIVEK TO ANYONE LOOKING FOR A DJ FOR ANY OF THEIR EVENTS!